It's that time of year again. Get ready to see your Facebook and Instagram feeds filled with endless pictures of chocolate covered strawberries, heart shaped balloons and expensive date night dinners. If you don't have a significant other, it's easy to fall victim to feelings of spite and jealously. I've technically never had a Valentines (or for that matter a long-term boyfriend). I used to avoid all human contact on Valentine's Day, just so none of my friends could - purposely or not - rub their love in my face. But think about it realistically... being single on Valentine's Day is actually amazing. Although for many people it might seem like the end of the world, I've come to accept it as a blessing in disguise, and here's why:
1) You'll save a helluva lot of money.
Let's be honest, Valentine's Day is bloody expensive. It's not only the presents/chocolates/flowers you have to worry about, but also the actual date itself. Even if you try sticking to a budget, everything is bound to add up. Not to mention that most places bump up their prices specifically for the occasion. If you're single, there's no reason for you to fork out loads of money - I mean, I'm still feeling the pinch from Christmas. You can instead spend it on more important things... like yourself for example. New pair of shoes, anyone?
2) You avoid those tacky cliches.
Valentine's was a gimmick created by card companies to bump up profits. Fact... Okay, so technically that's not true, but it doesn't stop them from churning out the same, tired old gifts year after year. How many teddy bears does a person honestly need? Being single means you don't have to pretend you like a gift that you reallyyyy don't. It also means you don't have to give one either. Sounds like a win win to me.
3) Awkward romantic gestures? Not your problem.
If you're in a fairly new relationship, Valentine's Day can get pretty awkward. Someone'll have to bring up the horrific are we/aren't we conversation, even though neither of you particularly want to. Even after that, you still have to decide what to get that person and whether you should do anything significant. You obviously want to express your interest, but how do you do that without looking too keen? Relationships are exhausting and require way too much thinking. I'll pass, thanks.
4) No date, no disappointments.
As a person that's never been in a serious relationship, I'd imagine that a typical Valentine's Day would resemble something out of a film. I'm pretty sure every girl has fantasised (at least once!) about coming home to a living room filled with dozens of roses and dinner at the most beautiful restaurant ever. Truth is, that's probably not going to happen (unless you're dating a millionaire). Generally speaking, most people hype up special occasions, only to be disappointed when things don't exactly go as plan; I'm definitely guilty of doing this too! If you're single, there's no chance of being disappointed because you are completely in charge of what you do on V Day. And you never know, perhaps someone unexpected might turn up on your doorstep, wanting to spend the evening with you... 😉
5) You can spend the day pampering someone who really needs it: YOU.
My middle name should be #treatyo'self since I seem to do it on a daily basis. Attending university everyday (like the good student that I am) should definitely entitle me to binge eat chocolate when I get home, right? Instead of concentrating on bae, you can spend Valentine's Day with looking after yourself. Dig out that face mask you haven't touched in years and that Lush bath bomb you've been waiting for the perfect opportunity to use. A large glass of wine wouldn't go a miss either...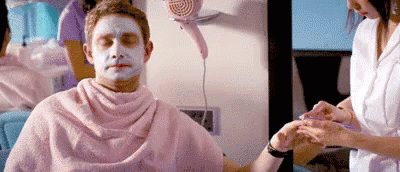 6) You can use it as an excuse to meet up with your girlfriends.
Since we're all at different universities, it can be hard for me to meet up with my best friends as often as I'd like. What better day than Valentine's to have a little reunion? Whether you go out for dinner or have a girlie night in, you're guaranteed an amazing night filled with an abundance of fun and laughter. Galentine's Day is waaaaay more fun than Valentine's Day, no doubt about it.
7) Discounted Valentine's chocolate tastes better anyways.
This one is probably my favourite reason. Just as I do after Halloween, Christmas and Easter, on the 15th of February you'll definitely find me filling up my basket with all the leftover sweets the supermarkets want to get rid of. I love a good bargain, and bargain chocolate is just too difficult to resist. Best part is, I don't have to share it with anyone. I can only see positives here.
As I hope you'll now understand after reading this list, being single of Valentine's Day isn't the end of the world. Lots of people won't have a date (me included, obviously!) even if it feels like you're the only one. So kick back, relax, and focus on yourself. Enjoy being single for the time being, because it has some pretty good perks. Plus, you never know, your Prince Charming could be just around the corner.
Have a good one!
Natalie x